Multi-Touch Control and Widescreen Viewing of Industrial Processes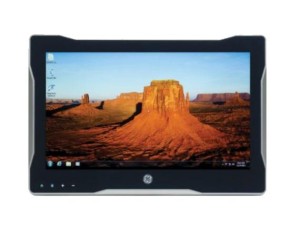 The RXi Display connects people and machines by combining the latest in touchscreen technology, widescreen display, modern design, high durability, and superior power in an ultra-slim package designed for the factory floor. The result enables quicker, smarter decisions based on real-time visualization.
Modular Design Reduces Total Cost of Ownership
The RXi Display's modular design means it is built for today—and tomorrow. When paired with the RXi Box PC, the RXi Display creates a high-performance system that lowers TCO with seamless replacement of either component and provides for powerful upgrades to the underlying computing technology as chip capabilities evolve.
User-Friendly Design Increases Productivity
The RXi Display was designed for ease of operation. Its front-mounted SD memory card slot can be accessed without opening the cabinet. For fast and easy installation, RXi displays offer a unique mounting system, designed to be completed in just minutes by a single person, without special tools or fasteners.
Enhanced Durability & User Experience
The RXi Display's solid aluminum bezel design is built to last. Its 9H-rated hardened projected capacitive multi-touch screen provides an intuitive, smartphone-like experience. The responsive, clear-glass display allows operators to efficiently navigate software in a variety of industrial environments. Capacitive touchscreen technology is more resistant to physical damage and UV discoloration, and permits a higher degree of brightness and contrast than standard resistive technology. This means clear, easy-to-see visualization of your processes.
Download datasheet