Ethernet-based Slice I/O Delivers High Performance and Flexibility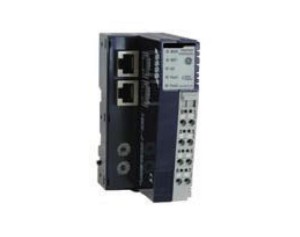 The RSTi compact, distributed I/O delivers long-life, higher performance solutions that are easy to configure, manage and upgrade. With Ethernet-based RSTi I/O, communications are enhanced through PROFINET, a high-speed, open protocol that facilitates the massive amounts of data that devices generate. RSTi I/O unlocks the continuity, connectivity, and collaboration for your control systems.
Simplify System Design without Sacrificing Performance
Equipment builders are continuously looking to improve equipment performance while reducing system size and complexity. These requirements are met in the high performance PACSystems RSTi distributed I/O.
RSTi I/O extends the capabilities of PROFINET-enabled GE solutions with a comprehensive line of granular slice I/O that simplifies panel design and reduces the overall size of the control panel to offer superior performance, connectivity, maintainability and upgradability.
Decentralized I/O Reduces Cost
The distributed nature of the RSTi enables a machine builder to design sections with distributed I/O drops closer to the field devices, reducing the cost of field wiring.
Decentralized I/O systems are easily disassembled and re-assembled with a standard, off-the-shelf Ethernet cable versus hundreds of wires coming back to a centralized control cabinet. The compact RSTi I/O line allows the user to "right size" the application, minimizing cost and panel space. Rugged "slide and lock" design provides an easy, secure installation.
Specifications
| | |
| --- | --- |
| I/O Types | communications |
| Advanced Diagnostics | No |
| Maximum I/O Per Drop | 512 |
| Media | Copper and Fiber |
| Hot Swap | No |
| Special Environmental Applications | Conformal coating available |
| Specialty Modules | PID Loop Module with Autotuning |
| Network Interfaces | PROFINET, PROFIBUS DP, Modbus TCP and Serial, DeviceNet, EtherCAT†, Ethernet IP†, CC-Link†, CANOpen† |
| I/O Module Size | 12mm wide x 99mm high x70mm Deep |