SIL 2 Functional Safety System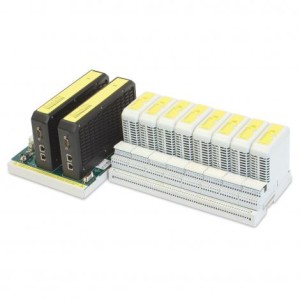 PAC8000 SafetyNet is a compact and cost-effective functional safety system for Emergency Shut Down, Fire & Gas and Burner Management applications. If standard IO is mounted on the SafetyNet node, it can be used as a tightly integrated control and safety system.
Certified and Proven to Protect Critical Infrastructure
Certified for use in SIL 2 safety functions, PAC8000 SafetyNet complies with IEC 61508 and IEC 61511. It has been used worldwide in many process applications, including power generation, gas plants, chemical and petrochemical industries, pipelines and in all sectors of the oil and gas industry.
Rugged, Open System Increases Availability and Lifecycle
SafetyNet can handle the harshest environments and has received Lloyd's Register approval for marine, offshore and industrial use in Lloyd's environmental categories ENV1, ENV2 and ENV3.
SafetyNet's rugged open control platform incorporates Modbus TCP with built-in Fault Tolerant Ethernet (FTE) for redundant communications, providing simple but secure connections to a range of standard software and hardware packages. This offers flexible migration paths that connect to yesterday's legacy control systems and today's instruments and software.
Specifications
| | |
| --- | --- |
| Approvals | FM |
| Hardware Design | 8-channel modules |
| Redundancy | Controller (for availability), LAN using Fault Tolerant Ethernet technology |
| Media | Copper |
| I/O scalability | Up to 64 modules |
| Safety Standards | NFPA 85 |
| Network Interfaces | Modbus TCPIP, SafetyNet P2P for SIL 2 peer-to-peer, Modbus RTU |
| Operating Temp | -40˚C to +70˚C |
| Software | IEC 61131 compliant |